My career as a landscape designer started at a young age – really young! I grew up on a strawberry farm shadowing my mom and working in the fields in spring and early summer. Gardening just came natural to me… I knew it was my life's work. Throughout my schooling I was always very "artsy" so a transition into garden design was just a natural fit. I studied horticulture and fine art at The Ohio State University. From there, I did a stint in NW England where my design aesthetic was really sharpened. I was very lucky when I began my career, I had a couple clients who took a big chance on a young designer. Needless to say, good work led to more work and my career took off quickly in my early 20s.
I get inspiration predominantly from two areas. The first is social media -- Pinterest & Instagram have inspired me over the years, and still do to this day. I follow all kinds of creatives in different disciplines…. I am constantly inspired! The second is travel -- for me, seeing is believing! When we travel to different cities, we do some research and find beautiful residential areas and we take evening walks after dinner. It's amazing how inspiring these walks can be. A change of scenery can do a lot for a creative's mind!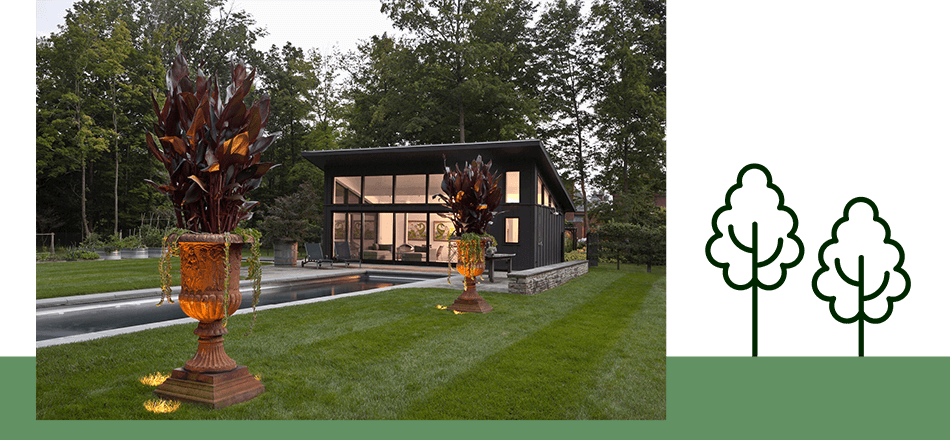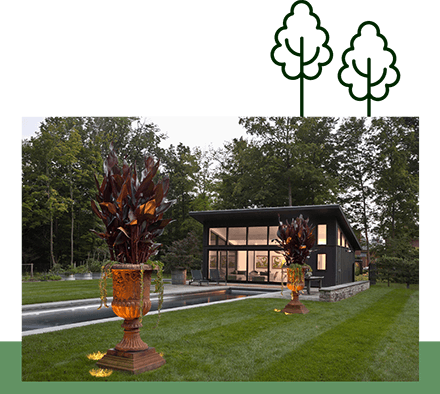 Spotlights and well lights are go-to fixtures to add visual appeal to foliage, trees and architectural features.
Working on almost exclusively residential projects, I am looking to extend the appeal of the garden into the evening. The evening is one of my absolute favorite times in the garden and it is when we gather with family and friends on the patio or around a fire. Just like the inside, the lighting needs to set the mood and accentuate the evening. I'll look at the key architectural features of the house -- an existing heritage tree that needs a touch of highlighting, or a path that guides guest to the door.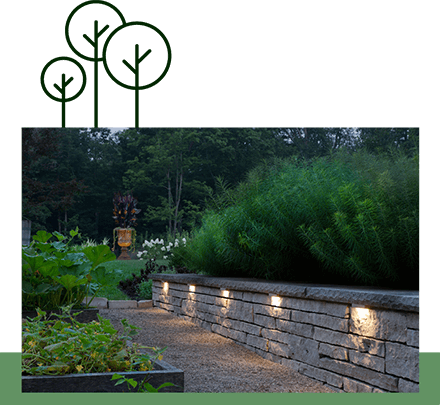 Designed to safely illuminate walkways, Nuvi hardscape lighting can be used in masonry and wood construction.
These days everyone needs more green in their lives. Especially in 2020 -- we found sanctuary in our garden; it was a safe space for social distanced family gatherings. We watched nature, we grew food, we entertained. My goal is to create spaces that get used by the family, inspire the kids to put down the electronics and observe the nature that is happening all around them. This is my goal for every garden and good lighting helps to extend that experience into the evening.
One of my all-time favorite projects has to be Oak Grove at Jorgensen Farms in New Albany, Ohio. This was a departure of my normal residential work into an event space. We approached it similarly to residential project where we wanted the space to feel intimate, personal, and as if it transports you. Hinkley was a crucial partner in achieving this through beautifully designed fixtures for outdoors but also inside the space. As the sun sets, the silver, green and white evening garden comes alive and is really one of the aspects that makes to space so special -- the lighting takes it to the next level.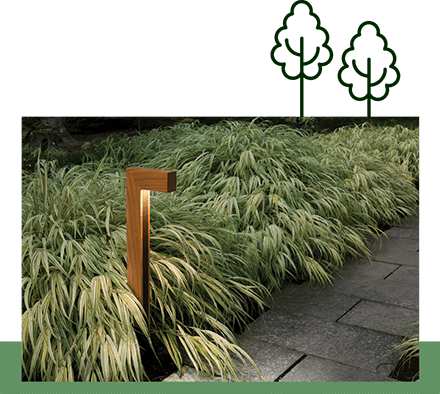 Path lighting staggered around walkways create pools of light to illuminate safe passage in style.

I have been fortunate to have used Hinkley's fixtures for several years on client projects but also at my own home. One of my all-time favorite fixtures is the Atlantis Cedar Path Light. Every evening I see it out my front door perfectly lighting my gravel path. The fixture is simple in design but so well executed and as any good designer knows -- that can be hard to achieve. I am always searching to a touch of modern to blend my classical designs together and the quality of design and product of Hinkley never disappoints.
Dig in to Outdoor Living 101 for a complete guide to planning and placing exterior lighting